On October 26th the South Florida PGA Foundation dedicated their second home to Habitat for Humanity through another moving ceremony.  This time the Foundation donated $50,000 in support of a home build through the Palm Beach County Habitat affiliate.  The home is located in Jupiter in the Kennedy Estates II development.
This home was purchased by Seretaria Williams' and her three young girls. Check out this short video from highlighting this project from start to finish!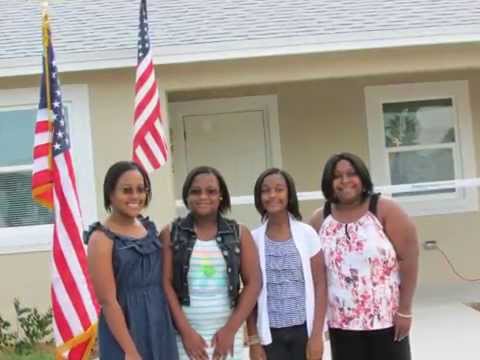 "My experience with working on the Habitat for Humanity Home was not only a very rewarding one as it gave me the
opportunity to assist in a project that is very meaningful to a family, but it also gave me the opportunity to spend a day with some of my fellow PGA Professionals and Section Staff Members in an environment that was very laid back and not "a normal" golf driven environment (i.e.- tournament, membership meeting, etc.).  This time spent on the project allowed me time to visit, tell a few jokes and find out more about some of my peers on a more personal level all the while working towards a goal of helping a deserving family.  Other than spending a day on the course with family or friends, I can't imagine a day that could be spent better!  I look forward to joining our Section's efforts on this project more as the summer moves along and hope others find it as enjoyable as I did. "
After hosting more than ten successful build days the South Florida PGA Foundation is excited to announce that on Saturday, October 26th the  home will be dedicated to the Williams' family.
Please note the volunteer schedule listed below.  If you are interested in helping please complete the volunteer waiver and email it to Meredith Schuler a mschuler@pgahq.com.  If you have any questions please contact the Section office at 561.729.0544.
no images were found
2011 Habitat for Humanity Project – Lee County
Click here to watch the professionals in action!
Habitat for Humanity & The South Florida PGA Foundation

Who is Habitat for Humanity?
Habitat for Humanity of Palm Beach County, an affiliate of Habitat for Humanity International, is a 501(c)(3) non-profit organization dedicated to the elimination of sub-standard housing by building simple, safe, and affordable homes for working families, in partnership with God, our community volunteers, and local organizations.
Habitat for Humanity of Palm Beach County was founded in 1986 by J.B. Bramuchi, a retired general contractor.
Habitat for Humanity of Palm Beach County partners with families in need to build affordable homes together. Each Habitat partner family is required to invest a minimum of 500 sweat equity hours of their own labor into the construction of homes before being eligible to purchase their home utilizing a 30-year, no-profit, no-interest loan.
Habitat for Humanity is primarily a volunteer organization. We cover a geographical area from Hypoluxo Road to the Martin County Line; building homes in Lake Worth, Greenacres, Westgate, West Palm Beach, Riviera Beach, and Jupiter.
SFPGA & Habitat for Humanity Partnership
In early February 2011, the Foundation Board of Directors agreed to donate $50,000 towards Habitat for Humanity of Lee County to sponsor a home in late 2011. For the past seven years the South Florida PGA Foundation has been working on smaller charitable campaigns. Under the direction of a new Foundation Board, the South Florida PGA Foundation has decided to strive for a major campaign with a national partner. Habitat for Humanity of Lee County was chosen as the first Habitat affiliate to partner with the South Florida PGA Foundation. "This is a very exciting relationship we have formed with Habitat, allowing the South Florida PGA Foundation to achieve one of its goals of giving back to each county in our Section. We are happy that the Lee County affiliate is the first affiliate, and we are looking forward to developing a solid relationship," stated South Florida PGA Foundation President and PGA Professional, Tom Wildenhaus.
"South Florida PGA Professionals making a difference in the community."